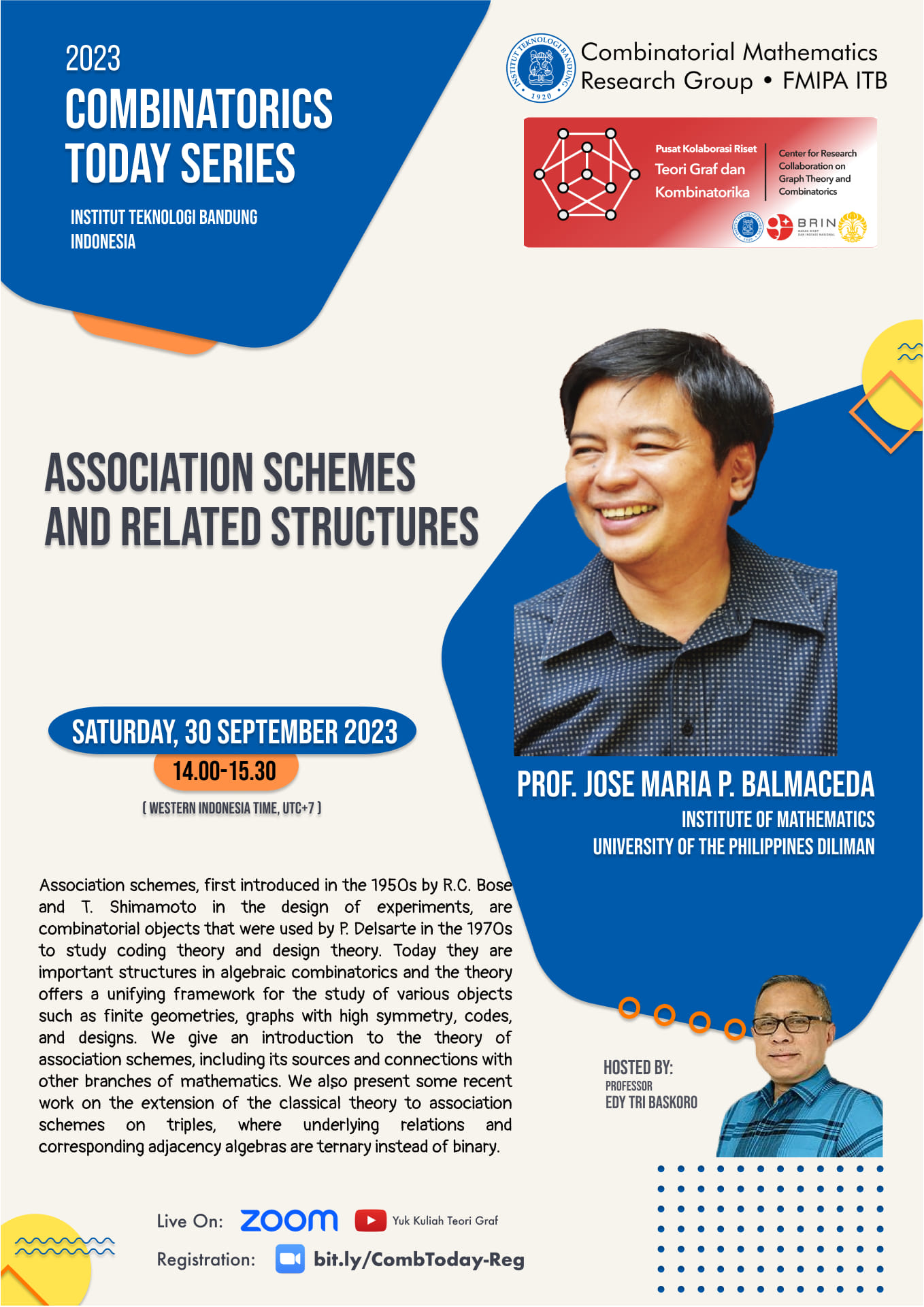 Combinatorics Today Series 2023 #7
    Institut Teknologi Bandung, Indonesia
    Saturday, September 30th, 2023
    14.00 - 15.30 (Western Indonesian Time, UTC+7)
   Speaker: Professor Jose Maria P. Balmaceda
   University of The Philippines Diliman
   Title: Association Scheme and Related Structures
   Organized by:
   Combinatorial Mathematics Research Group
   Faculty of Mathematics and Natural Sciences
   Institut Teknologi Bandung,
   and
   Center for Research Collaboration on Graph Theory and Combinatorics,
   Indonesia
   Registration (FREE, closed September 29th, 2023)
   More info about Combinatorics Today Series, please visit
   FMIPA ITB: https://fmipa.itb.ac.id/id/combinatorics-today-series-2021/
   Research Seminars:
    https://researchseminars.org/seminar/CombinTodaySeries
   YouTube:
---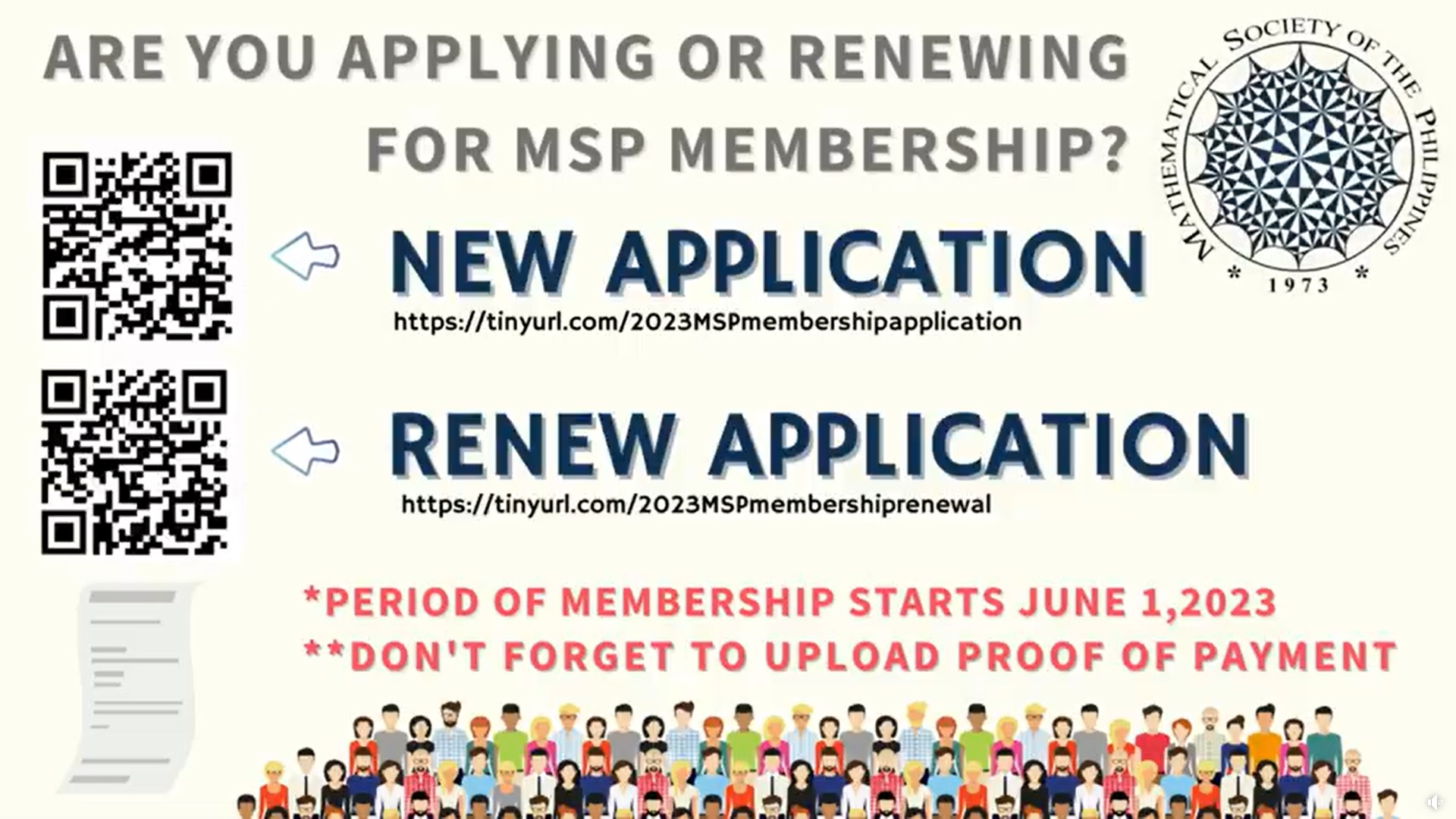 Are you applying or renewing for MSP membership?
For New Applicant - https://tinyurl.com/2023MSPmembershipapplication
For Renewal of Membership - https://tinyurl.com/2023MSPmembershiprenewal
*NOTE that the period of membership starts June 1, 2023, and don't forget to upload proof of payment upon filling up the forms.
---
Here are the nominees for the upcoming 2023 election of MSP Board members:
1.  Dr. Carlene P.C. Arceo (UP Diliman)
2.  Dr. Rafael Reno S. Cantuba (DLSU)
3.  Dr. Editha C. Jose (UP Los Banos)
4.  Dr. Mark Anthony C. Tolentino (AdMU)
5.  Dr. Jocelyn P. Vilela (MSU-IIT)
---
The Mathematical Society of the Philippines (MSP) invites you to participate in the 2023 MSP Annual Convention to be held at the Ateneo de Manila University on June 1-4, 2023. This year's convention marks the 50th year of the MSP as the country's largest professional organization dedicated to promoting mathematics and mathematics education.
Researchers and educators in pure and applied mathematics, mathematics education, computing, statistics, and other related areas are invited to contribute short papers for oral or poster presentations. Details of abstract submission and participant registration will be released shortly.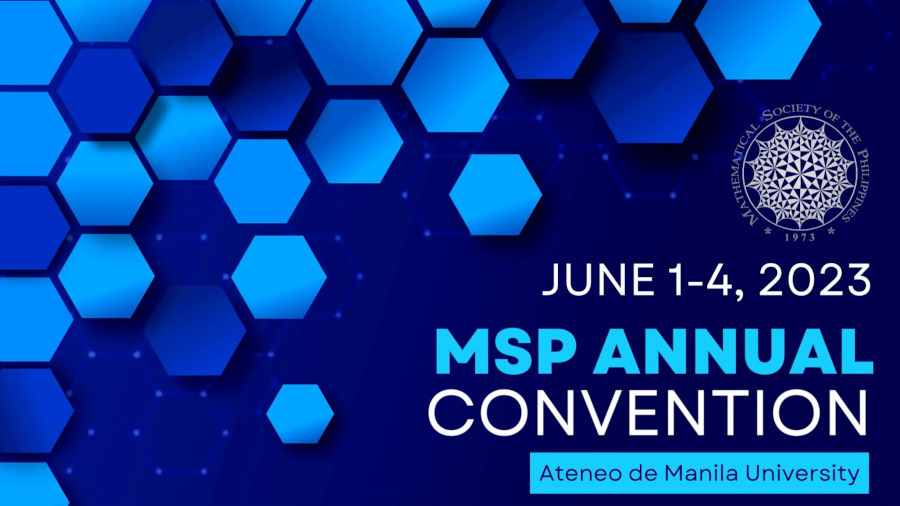 ---
MSP received a Plaque of Appreciation from Radyo Henyo of DZRH News on January 29, 2023,
recognizing the support of MSP to Radyo Henyo during its first decade of airing.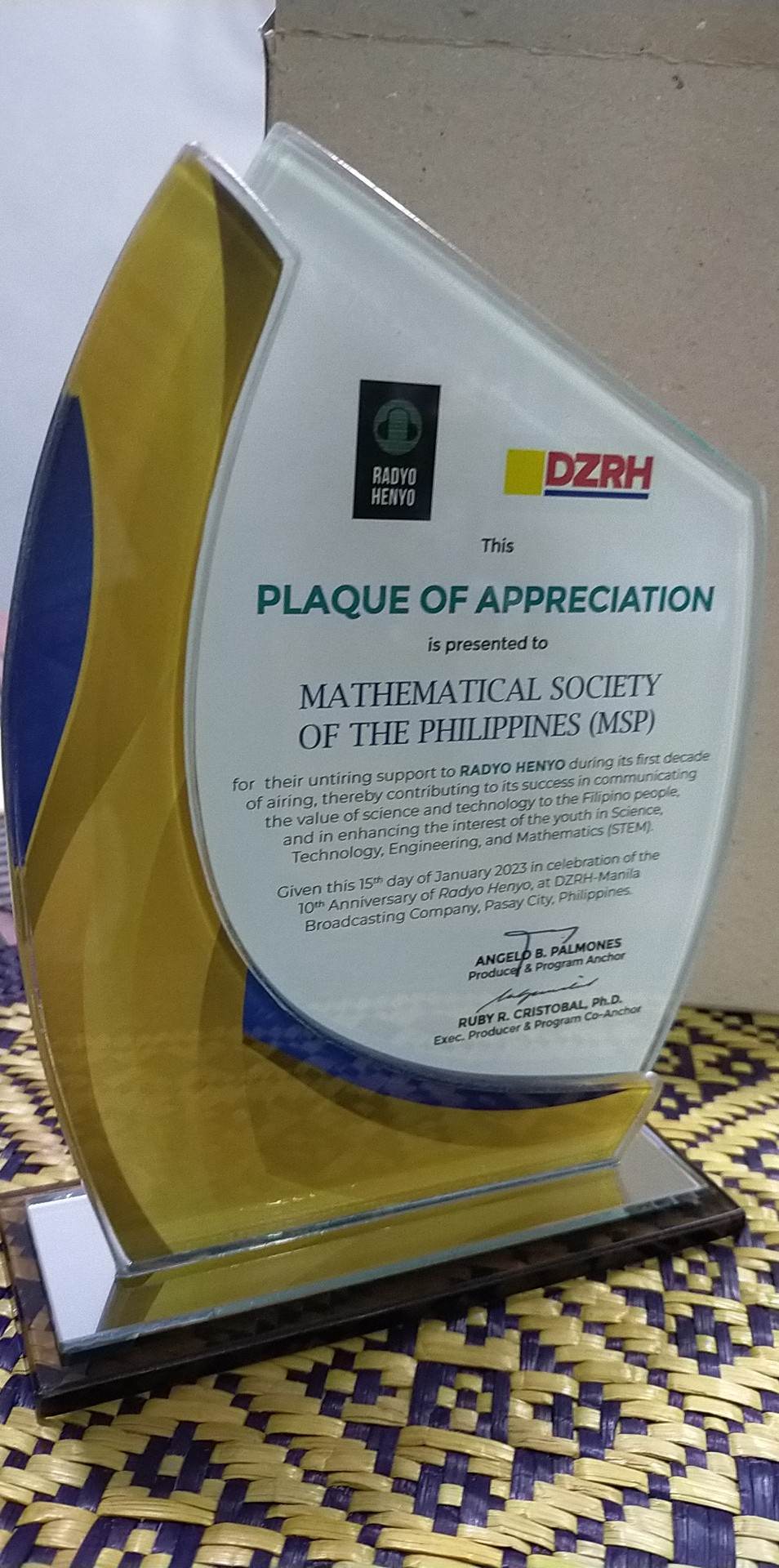 ---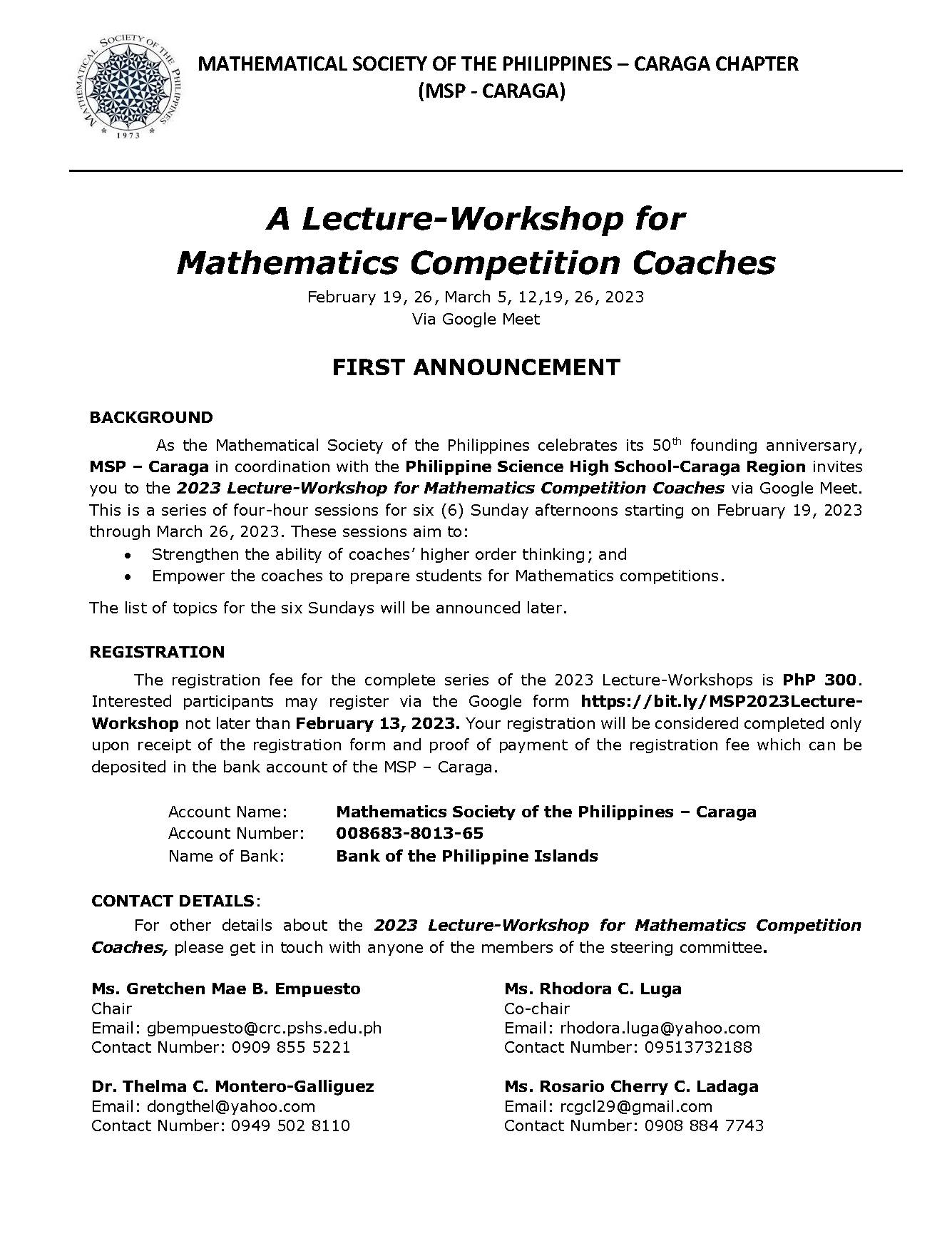 ---
---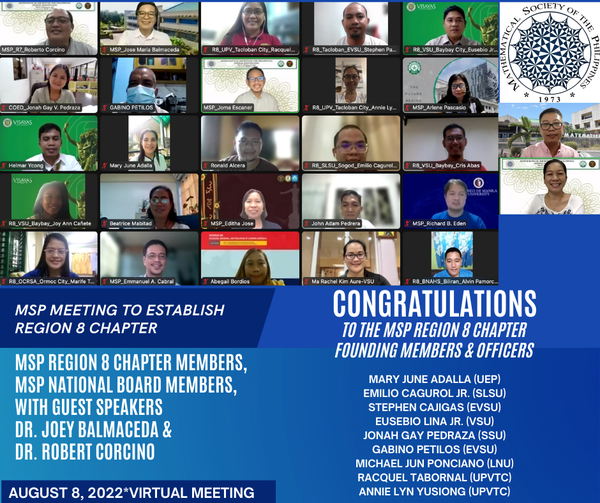 MSP Meeting to Establish 
     Region 8 Chapter 
     AUGUST 8, 2022*VIRTUAL MEETING
     CONGRATULATIONS to the 
     MSP Region 8 Chapter FOUNDING        
     MEMBERS & OFFICERS
---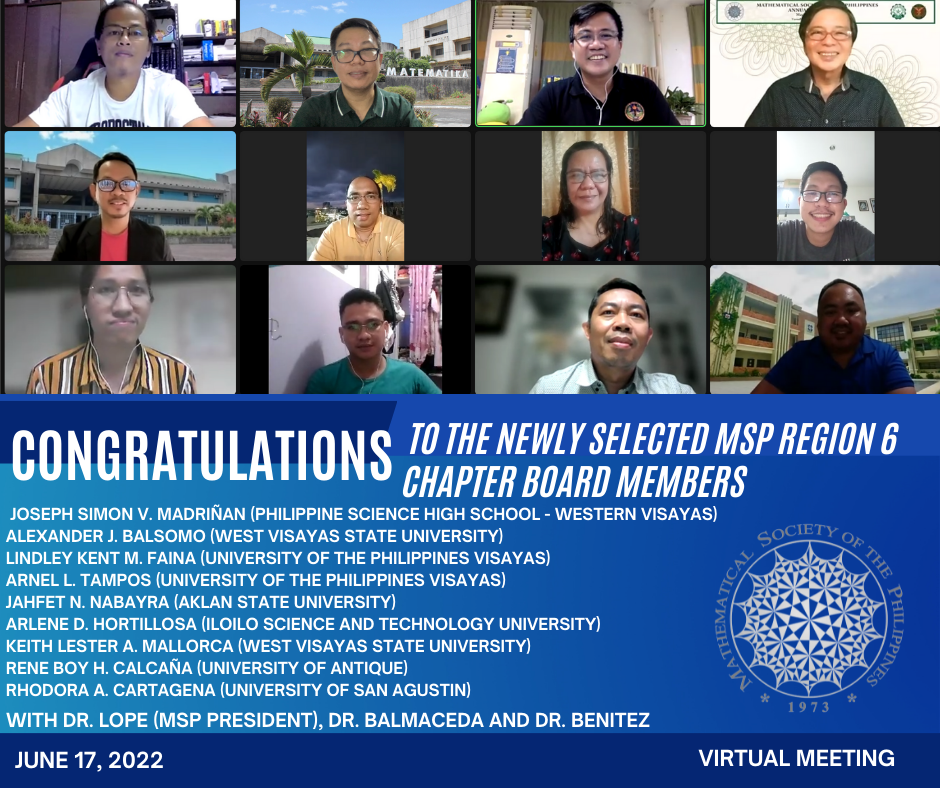 Congratulations to the newly selected           MSP Region 6 Chapter BOARD MEMBERS!
---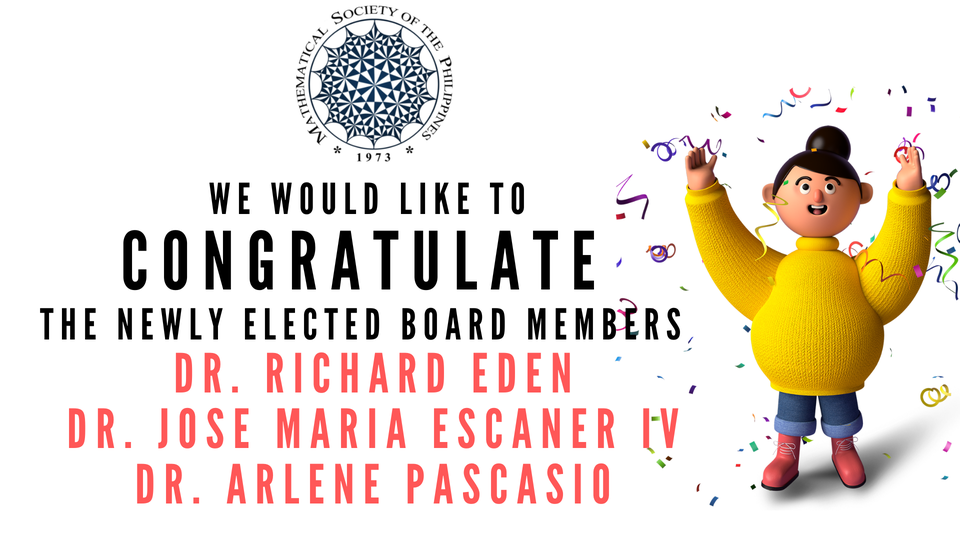 2022 Newly Elected MSP Board Members
---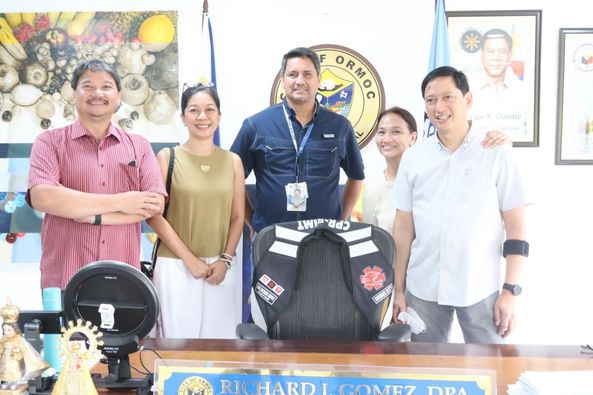 MSP Vice President Carlene Pilar-Arceo is working towards the establishment of MSP Region 8 Chapter.